If you're having trouble with our Spreadsheets data source, learn more about common issues and how to troubleshoot.
This worksheet is too large to import
The file size limit for uploaded spreadsheets is 5MB. If you're seeing the error message WARNING: This worksheet is too large to import, it's highly likely your file exceeds this limit.
We recommend importing .xlsx file to Google Sheets. You can then use ImportRange to reference the data from the converted file.
An alternative option is to export the .xlsx spreadsheet to a .csv file and use ImportData to import that data into Google Sheets.
Error fetching the list of spreadsheets
After connecting to your Google Drive account, you may see the error message: there was an error fetching the list of spreadsheets. If so, you need to allow Google Drive permission to share data with Geckoboard.

To do this, open the Google Apps control panel and navigate to Apps > Google Apps > Settings for Drive, and make sure "Allow users to install Google Drive apps" in the "Data Access" menu is enabled.
Excel file not appearing in OneDrive
Ensure that your file resides in the main OneDrive folder. Files placed within additional folders might not display.
Additionally, for OneDrive personal accounts, when using Share settings, make sure access is set to Anyone with the link can edit.
Also, only the .xlsx file extension is supported for Excel files. .xls files won't show in your folder.
X-Axis dates not display correctly on charts
This often occurs when X-Axis dates are being calculated by a formula e.g. =today() or when they're coming from another sheet =Sales!A1.
Unfortunately our Spreadsheets data source cannot display these dates due to a limitation of the Google Sheets API. When the data comes through the API into Geckoboard, it's no longer recognized as a date.
We recommend to create another column with manually entered dates that Geckoboard will use to populate your charts.
In the example below, the dates in Column A are coming from another Google Sheet. This means our Spreadsheets data source isn't able to display these dates in the X-Axis of the chart.
To fix this, copy the dates from Column A, then go to Edit > Paste Special > Paste Values Only to paste them into another column.
To format these as dates, go to Format > Number > Date. Alternatively, you can manually enter the dates.
In Geckoboard, set your Spreadsheets widget to use this new column of dates as the X-Axis of your chart.
Manually refresh Spreadsheets widgets
Yes you can force the values to update on the edit widget screen's breadcrumbs menu. Click the downward arrow  beside the name of your widget.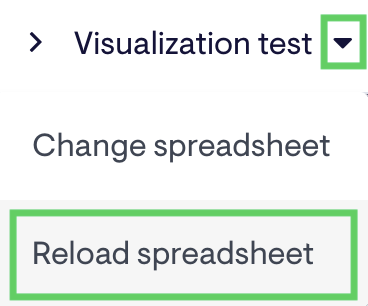 Deleted spreadsheet on Google Drive still powering widgets
When you delete a spreadsheet from your Google Drive account, it will automatically be placed inside your Trash folder. Items in your Trash folder are still, in effect, regarded as active documents until emptied. To ensure your spreadsheet will no longer power your widget, go to your Trash folder and manually delete the spreadsheet.
Get help
If you're still having trouble with errors on your Spreadsheets, get in touch.
Cannot read property 'offsetWidth' of undefined
This error will occur if you only have one row of data to select from. Check if you have selected the Use row 1 as header option. Keep in mind that values must be consecutive to use them within a widget.
Pivot Table sheet is empty
Currently, Geckoboard isn't able to retrieve pivot table data from a Google Sheet without using ImportRange to reproduce the pivot table in a new sheet