The Geck-o-Meter is a gauge visualization that enables you to quickly see a metric in comparison to defined minimum and maximum values. Guages are ideal for representing a single data point that fluctuates over time, like a speedometer in a car. Learn more by reading our introductory guide to Geck-o-Meters.
Example Geck-o-Meter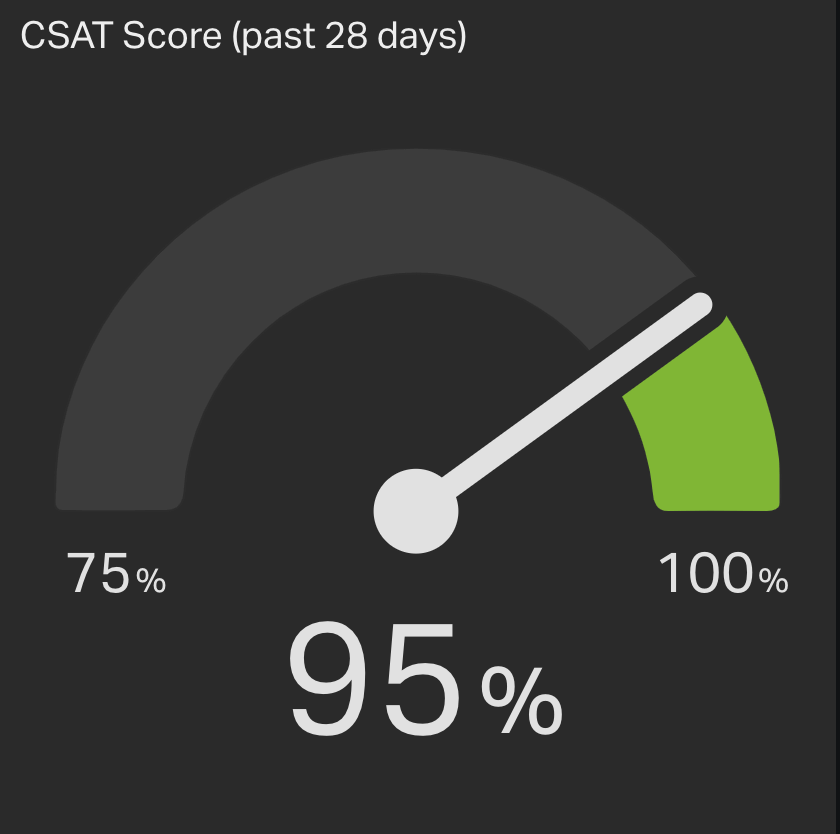 You could create this CSAT score Geck-o-Meter by formatting your spreadsheet like the one below. The last available value (95) from the CSAT column will be visualized.
Geck-o-Meters are a great choice to:
Show progress toward a goal.
Represent a percentile measure, like a KPI.
Demonstrate the health of a single measure.
Display information that can be quickly scanned and understood.
Geck-o-Meters are ideal for displaying data that:
Has a clearly defined range (minimum and maximum) of values.
Can be represented with a single numeric metric.
To create a Geck-o-Meter using spreadsheets, follow these steps:
Use the Widget Selector, located in the top right of the Spreadsheets widget set-up screen, to change the widget type to Geck-o-Meter.
Click in the Geck-o-Meter selection field.
Select the data from your spreadsheet by either typing in a cell selection (e.g. B1:B11), or clicking and dragging over your desired cells in the Spreadsheet Data area. As you do this, the cells will highlight and you'll see a live preview of your Geck-o-Meter.

Note

The Series fields will take numeric data, along with currency symbols and % signs.

Add a Min and a Max value to your Geck-o-Meter by typing in the number or selecting a particular cell from the Spreadsheet Data area. If no Min and/or Max values are added, your Geck-o-Meter will calculate it automatically using the lowest and highest value in the series.
Add optional status indicators that will trigger a Warning state, Success state, or both depending on whether the number displayed on your widget climbs above or falls below. Read more about status indicators for Geck-o-meters.
Give your widget a Title.
When you're happy with your Bar Chart, click

Note

The Geck-o-Meter uses the last value in the series (i.e. last value in the selection) as current value. Which is the value the needle will point at.

.
More ways to visualize your spreadsheets
Now that you're familiar with how to create a Geck-o-Meter, read our dedicated guides to creating the different visualizations available.